Spicy Spot Prawn Hot Pot with Foraged Lemon Balm - Part 2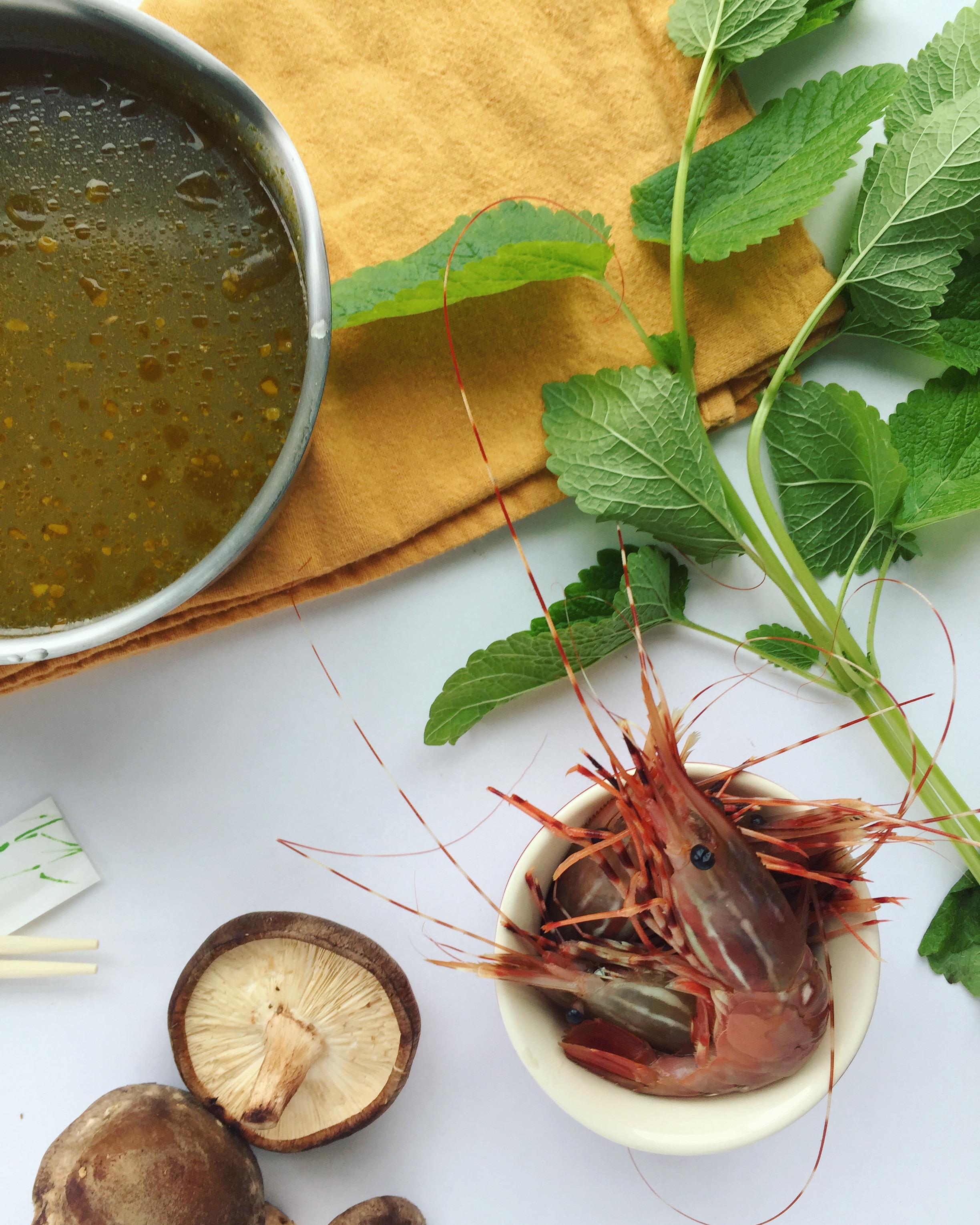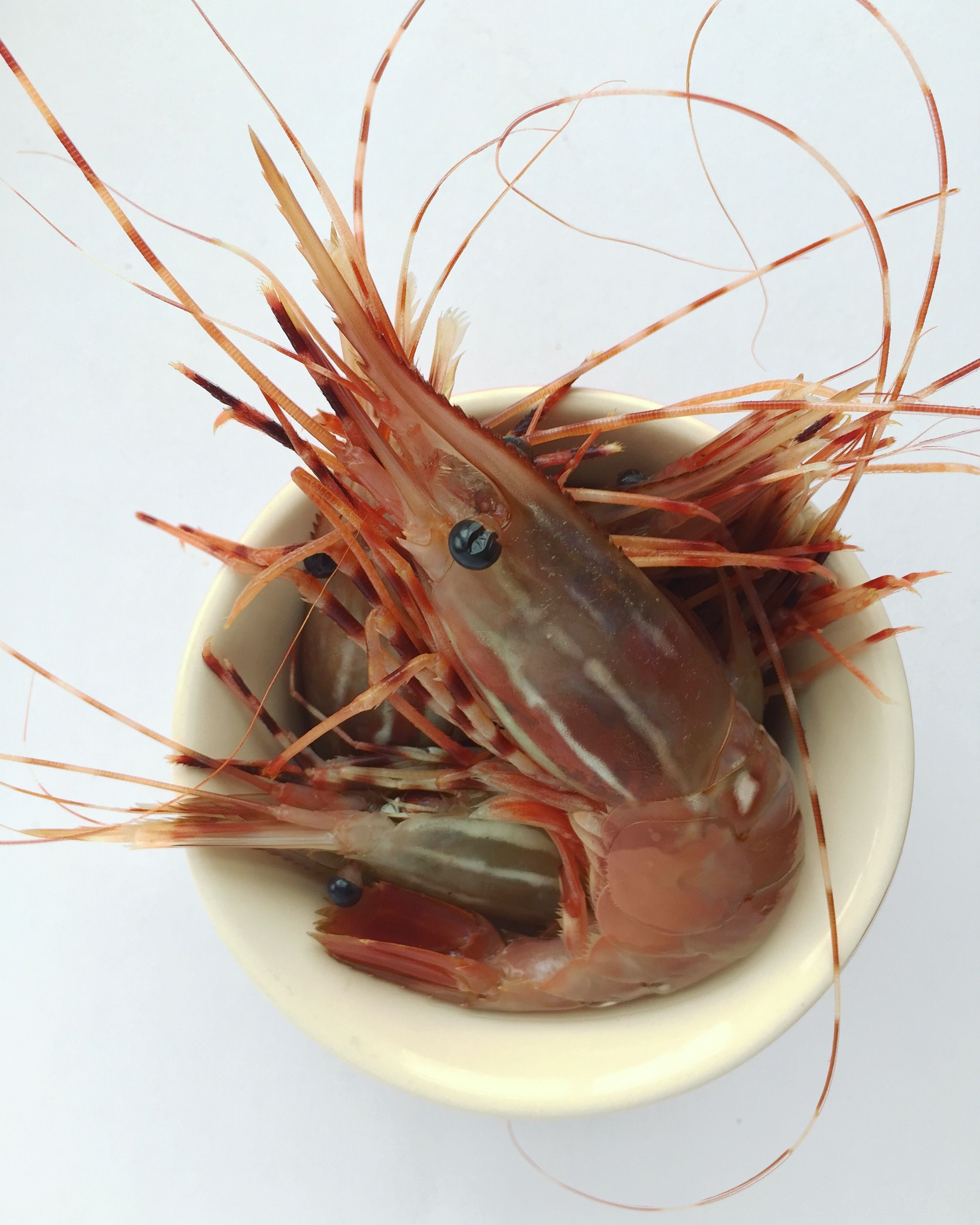 When we were brainstorming on a recipe, Chef Koyanagi asked me what kind of ingredients I wanted to include, and I said "lemon balm and spot prawns, does a hot pot work?" and his brilliant mind went to work creating this delicious recipe. It's so. freaking. delicious.
Hot pots are meant to be shared, which is why I love this dish even more. Food is meant to be enjoyed and savoured with good company.
This recipe is also a beautiful marriage of ingredients that are in season locally right now and an example of how you can combine those flavours in drool-worthy ways. Lemon balm is at its peak right now (judging by the wild patch in my yard) and is a lovely herb that supports the body in relaxing, aiding in digestion and reducing stress.
"There are two ways to serve hot pot," explains Chef Koyanagi. "Firstly, it can be an all-in- one hearty soup with all the ingredients simmered and served together. The second, my favourite way, is more akin to a Chinese style fondue. A rich spicy broth is kept simmering while you and your friends 'blanch' small bites of food to a desired doneness. Dips, rice and/or noodles can be added to create a fuller meal."
Chef recommended a number of things you can put in your hot pot, and by far we recommend the buttery fresh taste of the spot prawns with a rich, spicy broth with the tang of lemon balm leaves.
Dairy Free. Sugar Free. Pescatarian Option. Gluten Free Option
You can make the broth meat based or pescatarian, it's up to you - and I've included both options below. The broth has a kick to it - if you love spicy food, this dish is for you!
Serves 4, Preparation time: 3hrs
Broth
16 Spot prawns, whole head on
15ml Cooking oil
1.5L Chicken stock (or mushroom stock)
1.5L Pork stock (or vegetable stock)
2" Fresh ginger, peeled and sliced
300g Carrot, rough chop
3each Green onion, rough chop
1 Tomato, rough chop
100g Mushroom stems
Aromatics
1" Fresh ginger, peeled and sliced
10 Garlic cloves, crushed
6 Sprigs lemon balm
5ml Sichuan peppercorn
4-5 Star anise
2" Cinnamon stick
2.5ml Fennel seed
30-45ml Doubanjiang (Chinese spicy fermented bean paste)*
15ml Dried chili flake (optional - only if you want this super spicy)
Dipping Sauce
30ml Cooking oil
50ml Soy sauce
25ml Sesame oil
25ml Black vinegar/rice vinegar
Chopped cilantro, scallion, garlic
Filling Choices
4 Spot prawns, whole head on
Lemon balm leaves
Sliced extra firm tofu
Shitake mushrooms
Straw mushrooms
Glass noodles, cooked and cooled
Cooked brown rice
Bok choy
Napa cabbage
Thinly sliced halibut
* you can also use Chili Bean Sauce, a similar fermented bean paste. This is the only product in the hot pot that isn't gluten free.
Remove heads and peel the first amount of spot prawns (see how to do it, here). Set meat aside.
In a medium pot, sauté shells and heads for 10mins.
Add stock and all remaining first part ingredients, simmer for 2 hours.
Strain stock and set aside.
In a medium pot, sauté bean paste in oil for about 5mins. Add all remaining second part ingredients. Continue cooking for about 5min, continually stirring.
Add stock into cooked aromatics. Season to taste.
Combine all third part ingredients, adding cilantro, scallion and garlic to taste. This is your dipping sauce.
Place your pot of broth onto the portable stove and keep at a low simmer. Each person adds and removes ingredients to their preferred doneness and dips into the sauce.
Most of the ingredients in the fourth part are merely suggestions. Chinese hot pot can include whatever you and your guests prefer. Two absolute musts though are cooking spot prawn's whole, peeling and eating them (making sure to suck all the tasty juices from the heads) and serving bowls of rice and/or noodles (great for spooning broth over).
Mathew Koyanagi is the Executive Chef at Savoury City, a boutique Farm-to-table catering company in Vancouver.
Unanimous winner of the 2016 Vancouver International Wine Festival's prestigious Vintner's Brunch, Chef Mathew Koyanagi is well known for his adventurous palate, bold flavours and attention to detail.
After graduating from the renowned Dubrulle International Culinary School, Mathew further honed his fine dining skills in his home city of Vancouver, BC. However, it was during a stint at one of Canada's exclusive fishing resorts where his creativity and the challenge of cooking in unique settings lead him to catering and he realized his true calling – boutique, custom catering.
Having cooked in such exotic locations as the Great Wall of China and the Emperor's Summer Palace, Mathew's clientele has included former U.S. Presidents, royalty, dignitaries and a variety of international celebrities. Mathew fully embraces the sustainable agriculture movement and is committed to creating distinctive culinary experiences by showcasing the best and freshest ingredients our region has to offer.